MICROTEC
Tools For Small Part Machining Tools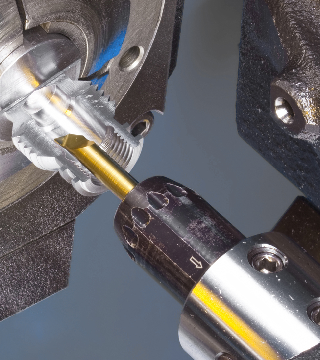 MicroTec productline is designed for internal machining of miniature parts (Min internal dia. starts from 0.6mm). Mostly used in the aerospace, medical & miniature components industries. Consists of various cutting geometries of carbide inserts & tool holders for a wide range of internal machining applications.
Inserts geometries to perform the following applications -
Internal turning & chamfering
Profiling and Boring
Internal Turning and Chamfering Next to the Bottom of Blind Holes
Back Turning
Internal Grooving
Full Radius Internal Grooving/Profiling
45° Chamfering
Back Chamfering & Pre-parting
Full Profiling & Partial profile Threading
Face Grooving
Round Profile Face Grooving
Deep Face Grooving
Inserts includes Coolant through supply close to the cutting edge for improved tool life and chip control.
Grade SC5819- PVD coating with TiAlN Coating Layer provides High Wear and Resistance, can be used most of the industrial materials- ISO P15-P30 M20-M30 K20-K40 S15-S30 & H20-H30.
General purpose for all materials.
MITECH holders
MITECH MG Double sided holders enable the mounting of 2 different insert shank sizes, one on each side.
Cooling holes ensure sufficient & improved coolant supply to the cutting zone
Clamping screws are located on top of the to provide an additional clamping option
MITECH A** holders are designed which enables extremely high clamping repeatability of 0.005mm
Video
DOWNLOAD CATALOUGE