Scrapers – Hand Deburring Tools

Scrapers – Hand Deburring Tools
Overview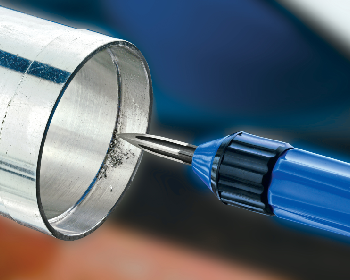 Scrapers are from Noga's Hand Deburring Tools that are used mostly in the metalworking industries, to remove irregular surface defects and high spots on previously machined parts. The scrapers remove very little material, but create a smooth surface. 

Noga supplies a great variety of scrapers mostly used for finishing interior and concave surfaces. Most of the scrapers are made having a triangular cross section, obtaining three cutting edges, but also special scrapers are available for deburring the internal ridges created by the break-through of holes drilled into pipes or bushings.
For effective working on various materials, Noga scrapers are made out of either alloy tool steel, high speed steel or solid tungsten carbide. The scrapers are made in many diameters, as to facilitate working in holes of various diameters, and different length for shallow or deep holes. Every tool consists of a scraper blade, gripped either directly in a convenient handle, or in a blade-holder which fits into an appropriate handle.

Noga Adjustable scraper (SC8000) is ideal for scraping, trimming and deburring almost all materials. Special slim-grip design for deburring in hard to reach location. Knurled locking collar to control blade extention.Includes 12mm anodized handle and T80 double ended triangular scraper. This handle can hold D55 carbide blade, D75 mini scraper blade and D66 internal scraper blade.

Noga Mini Scraper (NG3700) is ideal for tool and dies makers and includes NG-3 handle, D Holder and triangular mini scraper D50 blade. Blade D50 is secured to D holder with a set screw.

Noga new Scraper set (YT2000)/a combination of two scrapers and one new YT handle creates the world's best scraper set. Most economical set. Ideal for machinists and tool/die makers. Includes a unique new YT handle that fits comfortably into every hand, Hollow ground H.S.S D75 triangular adjustable mini scraper and T80 double ended triangular adjustable scraper.

Noga Internal Scraper (NG3710) is ideal for cross-holes deburring and includes NG-3 handled holder and D66 internal blade. 66 blades are held in D Holder by a set screw.
Applications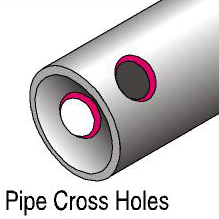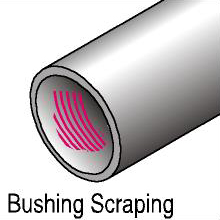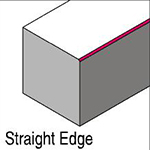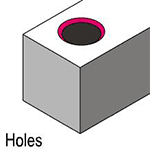 VIDEO
DOWNLOAD CATALOUGE